Douai Abbey: The Monastery of St Edmund, King & Martyr

On 25 April the annual Plainchant Forum convened at Douai, presided over by Sr Margaret Truran OSB of the monastery of Santa Cecilia in Rome, and Br Michael De Klerk OSB of Pluscarden.
On the same day Fr Hugh welcomed Nicolas de Casteja to the parish at Scarisbrick. The Marquis de Casteja married in to the Scarisbrick family at Scarisbrick Hall, and built the current church of St Elizabeth in honour of his wife, Eliza. The family sold the Hall in 1923 and Nicolas is the first de Casteja to visit since then. He was able to tour both the church and the Hall.
The next day Fr Finbar attended the abbatial blessing of Mother Eustochium at St Cecilia's Abbey in Ryde, Isle of Wight. Ad multos annos!
On 27 April, Abbot Geoffrey celebrated the funeral Mass of Desmond Seward KM in the abbey church. The Dies Irae was sung in the church for the first time in many years.
The following day the community hosted the the annual EBC History Symposium, welcoming around 30 participants. The four papers presented commemorated wthe 300th anniversary of the birth of Bishop Charles Walmesley OSB FRS (1722-1797), a distinguished Edmundian monk, mathematician and astronomer, prior of St Edmund's in Paris, and Vicar Apostolic of the Western District in England. Concluding the day, a bust of Walmesley, the work of Neil Weir KM, was unveiled in the library by the abbot.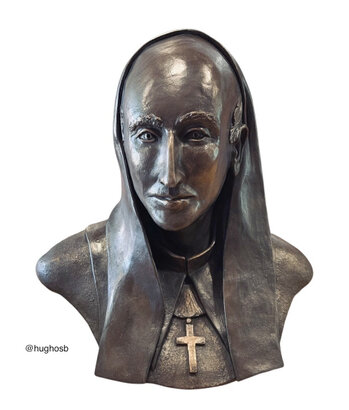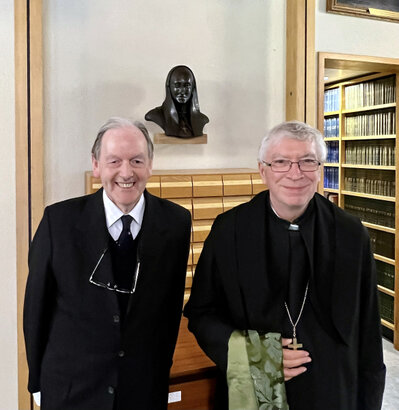 On 30 April, Abbot Geoffrey and Fr Gabriel Wilson went to St Mary's School, Ascot, where the abbot conferred the sacrament of Confirmation on 40 girls.