» Of Books, Schools and Sisters
Douai Abbey: The Monastery of St Edmund, King & Martyr
» Last Friday Fr Abbot was at Blessed Hugh Faringdon School in Reading to offer Mass for the beginning of the school year. It was the beginning of a week of heightened contact with the school. On Monday this week the new headmaster of Bl Hugh Faringdon, Dr Simon Uttley, came to speak to the monastic community about his mission at the school and how Douai might be help foster the Catholic life of the pupils. To that end today and yesterday about 50 year 7 confirmandi from the school came to visit the monastery, hear a little spiritual input from Frs Alban, Peter and Gabriel, enjoy some lunch and celebrate Mass. This may become a regular feature of the school year.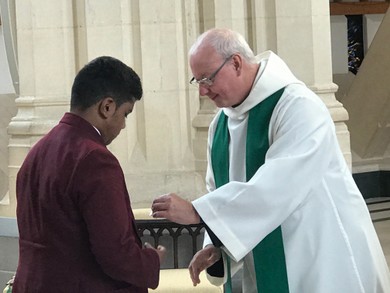 » Also last Friday the Turner Collection returned to Douai after half a century on loan to Reading University. The collection comprises about 250 pamphlets from late 18th century France, all of which relate to one of our monks, Dom John Turner, who was much involved in the revolutionary politics of the time (when our monastery was, of course, in Paris).




» Wednesday just passed about 17 Assumption sisters left after spending 10 days in retreat at Douai. It the first time in many years the sisters had enjoyed a retreat together. We feel confident they spent a pleasant and rewarding time with us as today we were happily surprised to receive a delivery of a case of wine from the sisters. They know the way to a monk's heart!