Douai Abbey: The Monastery of St Edmund, King & Martyr
» It is proving a quietly busy time of year. On Tuesday 25 October Fr Luke Beckett of Ampleforth, the Assessor of the EBC, spoke to the community about proposed changes to the EBC consitutions. Fra from the dry affair it sounds, there was lively discussion taking us significantly beyond the normal finishing time of Tuesday meetings.




» The next evening Fr Hugh sang the monthly Missa Cantata for the Knights of Malta at St James', Spanish Place. On Saturday 29 October Fr Gervase travelled to Wantage to give a day's input for the pastoral area's Extraordinary Ministers of the Eucharist, with considerably more of them turning up on the day than were expected.




» Around this time Fr Alain Romain from Mauritius stayed with us on order to consult our archives on the period in the 19th century when Douai provided monks to be bishops for that diocese.




» On All Saints' day Fr Hugh offered Mass at Farleigh, a Catholic preparatory school near Andover. The next day, All Souls, Fr Abbot offered the conventual Mass, after which he blessed the graves in the monastic cemetery.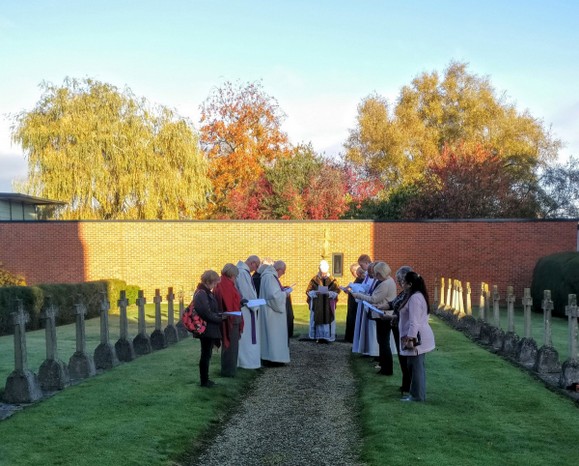 » On Thursday 3 November Fr Abbot attended the memorial service for the historian Professor James Campbell at the University Church of St Mary in Oxford, after which there was a reception at Worcester College, with which Professor Campbell had maintained a constant association from 1957 till his retirement.