» 'Ofmon' inspection, et al.
Douai Abbey: The Monastery of St Edmund, King & Martyr
» Starting on Monday, the Douai community will be undergoing the quadrennial Visitation by the Abbot President, assisted by Abbot Luke of Worth. Since long before schools, care facilities etc were inspected, monasteries have been inspected, or visited, to ensure that the monastic community is following the Rule and constitutions; that the liturgy, formation studies and finances of the monastery are sound; and to allow the brethren a chance to voice concerns, fears and even joys. The actual Visitation will last a few days and a report will be delivered by the Visitors at the end of May.




» The abbot has a reasonably full plate at the moment. These past few days he has attended meetings of the Berkshire Record Society and the Jacobite Studies Committee, and tomorrow he will confer the sacrament of Confirmation at Portsmouth Cathedral.




» On Wednesday Douai hosted a book launch in the guest refectory. The book, Gradual: A Renaissance chant book and its role in the Counter-Reformation, by Julian Berkeley and Tony Scotland, is a small and handsome harbound volume that charts the rescue, restoration and history of a rare book of Gregorian chant printed at the famous Plantin press in Antwerp in 1598, and found in a parlous state in a bookshop at Kingsclere, a few miles from Douai. It is published by Shelf Lives based locally at The Pottery in Baughurst. It sells for a modest £15. If you would like a copy enquire through the webmaster.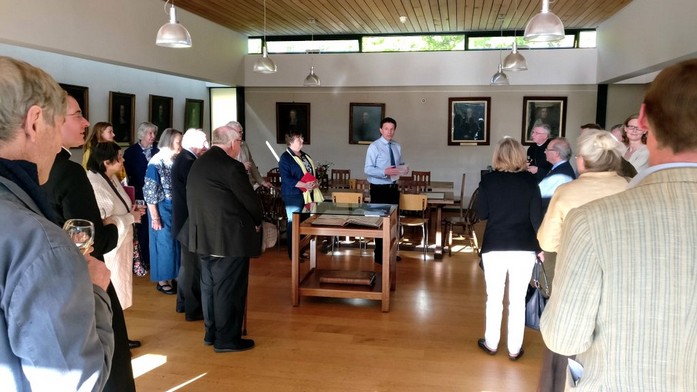 Julian Berkeley addresses the launch guests
One of the restored volumes on display at the launch
The book, available for £15